Eko Software

Eko Software is a historical partner of Play Connection since 2007.
Eko Software is a company established in 1999 which produces and develops console video games.
Eko develops their own creations, which are currently distributed throughout the world.
Eko Software also develops high-quality video games on behalf of its clients, via franchises which are awarded to it.
The team is developing on all gaming platform, and is official developer on next gen console.
The company has developed some solid successes in all genre, from Garfield till the recently acclaimed success on Steam; Xbox live and PSN store: How To survive.
Our mission
1. Play
We will look where the industry is heading and we provide the best route in term of future development strategy
From the creation of game concepts, how to present each pitches, to proper schedules, and balanced budgets
2. Connection
Once the prototype is ready, we will meet the best publisher and funds to ensure the creation and full production of the IP.
How to Survive 2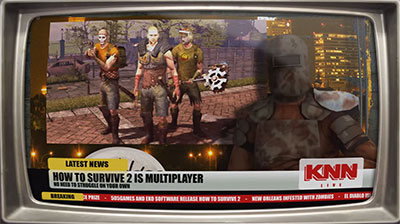 Several years have passed since the original How to Survive events on Los Riscos' archipelago. Now the local infection has turned into a worldwide pandemic. Everyone around the world, groups of people or lone wolves, try to survive one more day among the infected, attempting to recover a semblance of normal life. You find yourself in Louisiana and your survival chance starts by building a safe camp and becoming a skilled survivalist.
Find water, food and shelter and talk to the unconventional locals to make your way around.
An eccentric masked stranger offers you help? Sure, sounds way better than zombies!
Key Features
Multiplayer is here! You can invite up to 16 players to access your camp and 4 of you can play simultaneously.
Teamwork: all players can contribute to a bigger, better camp and can perform co-op actions and strategies.
New improved camera follows your character, allowing you to zoom in and out on the fly!
New randomized environments: from the unforgiving Mississippi Delta bayous to the abandoned streets of New Orleans' French Quarter.
Create your own character: learn new and different skills to specialize as you level up and equip with scavenged and handcrafted armor, tools and weapons.
A new deeper crafting system will allow you to use items and materials to create hundreds of items, tools and weapons to upgrade your character and your base camp.
Set-up, upgrade and protect your camp as you want: choose from a wide upgradeable variety of traps, barricades, obstacle and workshops that will open different skill trees and allow you to create more materials and items.
Quests and infinite random raids.
Night & day cycle and weather conditions.
Screenshots